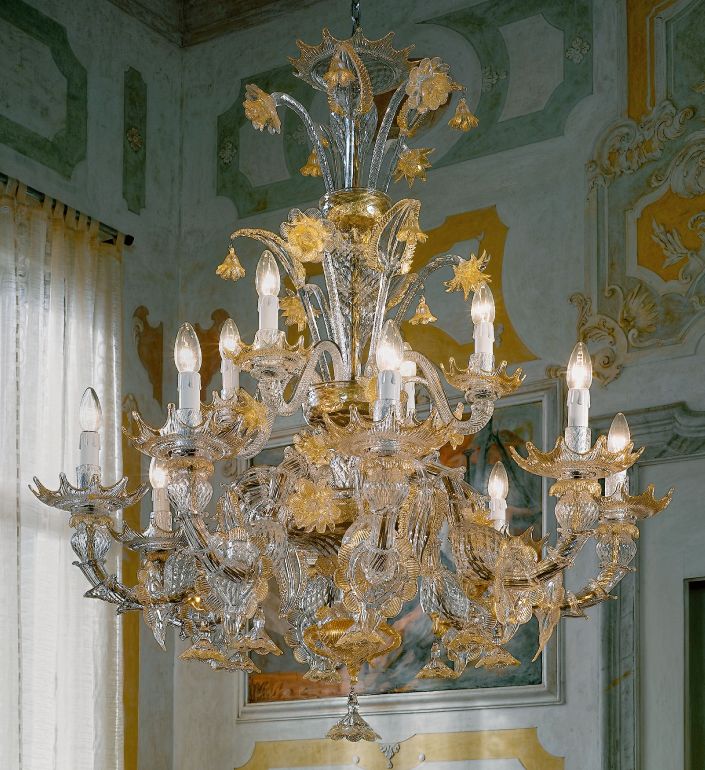 Spectacular large 12 light Murano glass Rezzonico chandelier [433880]
A wonderful twelve light chandelier,  beautifully decorated with hand- blown Murano glass embellishments.
The small pieces of conjoined Murano glass which cover the arms make it easily identifiable as a Rezzonico chandelier.

During the 18th century, an era when ostentatious displays of wealth were the order of the day, a huge chandelier was commissioned for the Rezzonico palace in Venice, but it was in danger of breaking under its own weight. For the first time, a metal frame was made, and the arms were jacketed in these glass pieces. And so the Rezzonico chandelier was born.
This beautiful chandelier is made by a Venetian company which has a long tradition of producing wonderful chandeliers and other lighting, as well as mirrors and mirrored furniture. Please contact us if you would like to know more.
Dimensions :
Height: 41.5" / 105cm plus chain and ceiling rose)
Diameter: 39.5" / 100cm


Illumination: 12  40 W  E12 bulbs