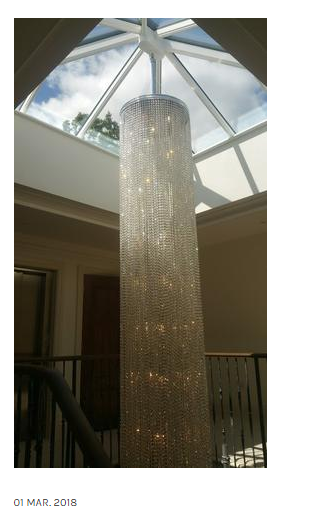 8ft tall crystal waterfall chandelier, custom made with glittering Italian crystals [C105]
A truly sensational long waterfall chandelier, recently tailor-made by us to hang from a skylight frame. It measures around eight feet in length, has a diameter of sixty centimetres, and is hung with thousands of crystals, which transform it into a magnificent, glittering, column of light when it is switched on at night. It weighs about 120 kg.
We visited the client's home to assess the strength of the skylight and to determine the dimensions of the space. Once the design was agreed, we project-managed the Italian side of the operation and returned to install the finished chandelier.
If you think that you might like a show-stopping chandelier like this for your stairwell or foyer, please get in touch with us.
We have completed many projects similar to this one over the years, in partnership with a number of Italian studios . We have found countless solutions to unseemingly unsolvable issues with awkward roof spaces, and are very proud of our excellent professional reputation. We have travelled the world too, with projects in the USA, Africa, the Middle East and New Zealand, as well as countries closer to home.