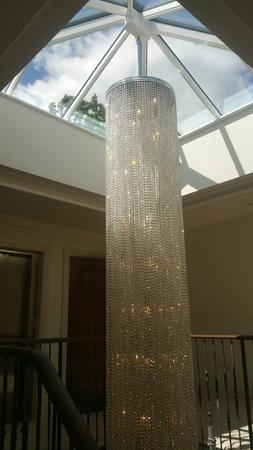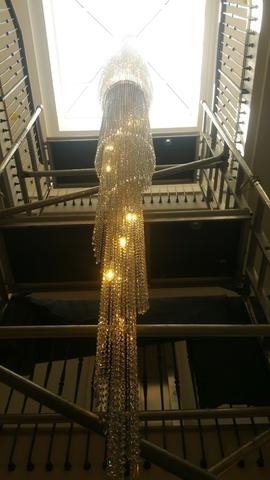 Specially-commissioned 8 metre-tall stairwell chandelier with sparkling crystals [5100]
Completely unique, and unlike anything you will ever find in any store, this incredible tall chandelier, measuring eight metres in height and 60 centimetres in diameter, is a tailor-made piece which we designed, commissioned, and installed in a private UK residence in 2018. When it's switched on, it becomes a glittering column of light along its entire length, thanks to the thousands of faceted crystals which are suspended from the frame.
If you would like us to create something similar for you, larger or smaller, please get in touch with us.
We will visit your building, wherever you are, to make sure that your ceiling can support its weight, and if not, remedy the situation. This particular chandelier weighs around 120 kg, and we made a special frame to fit the skylight.
We will take precise measurements, create a design with you, and talk through the types of crystal we can provide, including Swarovski gems. Once we have agreed a price, we will do all the hard work,  project-managing the entire operation, and even installing your new chandelier for you. We bring all our own equipment and clean up afterwards.