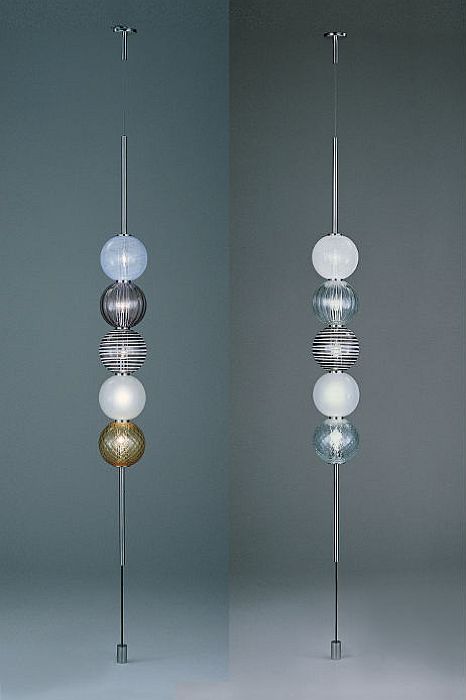 The Abaco Murano glass globe ceiling light from Venini with 5 lights [48842]
The gorgeous Abaco suspended ceiling light, created by designers Monica Guggisberg and Philip Baldwin for Venini, the world-famous Venetian glass design house and glass manufacturing company. 
It comprises a a nickel frame, from which hang five Murano glass spheres, each with their own light source, handcrafted using traditional Venetian glass-making techniques such as baloton moulding to create a criss-cross design, and rigadin moulding to create delicate ribs. 
The designers have also used more modern patterns, such as filigree, stripes, and satin texturing. The colours are selected from a muted and cool palette of clear, milky-white, amethyst and pale blue glass. 
The images show two possible combinations. Please contact us if you would like more information, or would like to discuss custom colours. We can also supply a smaller size with 3 spheres. Please ask us for a price. 
Italian Lighting Centre are UK suppliers of the full lighting range from Venini. If you can't find what you are looking for on our site, please contact us and we will be able to help. 
Height:
 589 cm